Chicago Tribune A & E section  ( online dec.10 in print edition dec. 11) 2013
NEW JAZZ RECORDINGS FOR CHRISTMAS
Howard Reich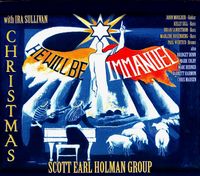 Among the best recordings :
Scott Earl Holman with Ira Sullivan : " HE WILL BE IMMANUEL " ( crumblehead )
..... an all-star list of Chicago jazz musicians - including drummer Paul Wertico and guitarist John Moulder - it's no wonder this music piques the ear. These musicians improvise freely and poetically with Wertico's inventive drum work and Sullivan's flights on soprano saxophone and trumpet of particular interest. So this isn't holiday music to hum along with or tap your toe to - it's far to free ranging and exploratory for that......